Dr. Vicki Alexander, MD, MPH Board President
Photo Credit: Monique Blodgett
Dr. Vicki Alexander is an influential leader at the local, state, and national level. As the Co-Chair on the Measure D Campaign for Soda Tax in 2014 she continues to inspire and advocate for health to ensure her children and grandchildren will live in a healthier society. A retired Physician, Obstetrician and Gynecologist and Public Health. Retired MCAH Director and Health Officer, for the City of Berkeley. Founder of Healthy Black Families Inc. Lifetime commitment to health equity and social justice. Board of Director, for the Praxis Project and previously on the Board of Directors for the California Black Health Network.
Recent Awards: Woman of the Year, Berkeley (2011) Martin Luther King Jr Lifetime Achievement Award, City of Berkeley (2014) Black History Month Recognition. Alameda County Board of Supervisors (2017) Woman of the Year, State of California (2017), Madame C. J. Walker Award , National Coalition of 100 Black Woman (2017) Benjamin Ide Wheeler Award for being Berkeley's "Most Useful Citizen," Berkeley Community Fund (2017)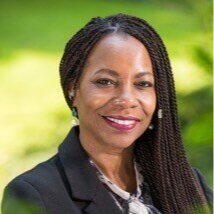 Cheryl Johnson, PhD, Board Vice President
Photo Credit: Monique Blodgett
Dr. Johnson has broad experience implementing system-wide change initiatives at the city and county level including program design, implementation, and management in the areas of reducing community violence, public health and wellness, civic engagement, mental health, and wellness and recovery. She has worked in and with private corporations, non-profit organizations, large public agencies, educational institutions, and the U.S. military. Dr. Johnson received her Psy.D. from the Wright Institute in Berkeley, CA and her M.S. in Human Resource Development from Troy State University in Dothan, AL.
Photo Credit: Monique Blodgett
Joyce Lewis, PHN, RN, Lawyer, Board Treasurer
Photo Credit: Monique Blodgett
Currently legal counsel to the Veterans Administration in San Francisco, Joyce has been a proponent of health autonomy, education, wellness and disease prevention. As Health Care Provider and companion support for our elders, she continues to provide education support regarding setting goals, navigating complex systems, and accessing opportunities. Joyce continues to empower her community through youth and adult mentorship, career guidance, networking and leadership.
Amani M. Allen, MPH, PhD, Board Member
Photo Credit: Monique Blodgett
Amani M. Allen is Associate Professor of Community Health Sciences and Epidemiology at the University of California, Berkeley, School of Public Health, where her research focuses on race and socioeconomic health disparities and the measurement and study of racism as a social determinant of health. Allen received her Bachelor of Science (BS) in Biology from the University of Maryland, College Park, her Master of Public Health (MPH) from the George Washington University; and her Doctor of Philosophy (PhD) from the Johns Hopkins University. She was also a Robert Wood Johnson Health and Society Scholar at the University of California, San Francisco and Berkeley.
Starla Gay
, MPH Board Member
Photo Credit: Monique Blodgett
Committed to supporting other women with similar experiences, Starla utilizes her knowledge and expertise related to the BIH program based on participants viewpoint. Very active in the South Berkeley Community Action Team, African American/Black Professional and Community Network, she also volunteers at VITA Tax Volunteer tax preparer. She received her Bachelor's from Cal State University East Bay and received her Master's of Public Administration from CSUEB in June 2013. Star currently works full-time as an employment counselor at Alameda County Social Services and is a single mother of two.
Photo Credit: Monique Blodgett
Completing her undergraduate degree at Columbia University, Dr. Zea earned a medical Doctorate from UCLA and a Master's degree in public health from UC Berkeley. Applying her rich education she works as a pediatrician and public health professional committed to improving health outcomes for children of color. Witnessing the toll racism takes on black and brown communities from a decade of practicing medicine in safety-net clinics. Recognizing that in addition to delivering high-quality medical care, social justice advocacy is essential for promoting health within marginalized communities. Dr. Zea currently sees patients at Mission Neighborhood Health Center and currently works for the San Francisco Department of Public Health leading a collective impact initiative to reduce racial disparities in birth outcomes.
Photo Credit: Monique Blodgett
Ptah Mitchell, Board Member
Valuing education, Ptah has had an extensive background in teaching. As the former Director of Programs for the Institute for the Study of Black Life and Culture, former Administrator of the Claremont Afterschool Program, former Facilitator to the Mosaic Project, former after school Coordinator for Martin Luther King Elementary School, and Former Gompers Instructional Aide. Ptah also integrates his faith and served as the Educational Director for the Southern Christian Leadership Conference.